THE FOLLOWING IS A DANVILLE AREA COMMUNITY COLLEGE RELEASE

(Above) Isela Rangel, Assistant Director of Financial Aid prepares Pasta de Harina with Eunice Dix

DANVILLE–Students, faculty, and staff at Danville Area Community College celebrated Hispanic culture and traditions on October 12 – Hispanic Heritage Day. The two-hour event in the DACC Student Union included music, food, games, and displays. Dr. Jon Wade brought three types of Latin coffees to his Connection Café, the Culinary program prepared tasty Latin treats, and members of the DACC Pep Band percussion section gave a drumming demonstration. Several students also contributed to a video describing whay being Hispanic means to them.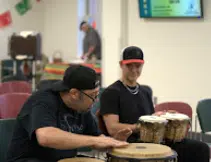 Pep Band Asst. Director Guido Esteves and percussionist JB John demonstrate drumming techniques.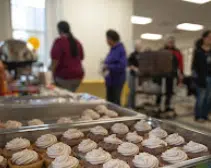 Tasty treats compliments of the DACC Culinary students & faculty.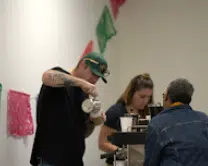 Dr. Jon Wade and Academic Advisor Dawn Nasser serve three types of Latin coffees.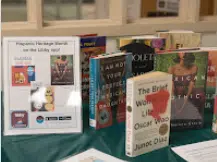 Hispanic book display
Video Link: What Does Being Hispanic Mean to You: https://youtube.com/shorts/r7WRUHyCiBI?feature=share
This site is protected by reCAPTCHA and the Google Privacy Policy and Terms of Service apply.