An overload of road trip adventures in search of classic and kitschy Americana pop culture is the focus of the enthusiastic history-based entertainer and "Ambassador of Americana" Charles Phoenix, the keynote performer of the Hastings College Lecture Series Student Symposium at 7:00 p.m. on Wednesday, November 9 in French Memorial Chapel.
Phoenix caps the day-long symposium that expands on "The New Americana," finding new and old definitions of what it means to be an American in this changing nation.
The symposium features only in-person presenters, all in the French Memorial Chapel beginning at 8:00 a.m., as well as a "Show and Shine" vintage car and motorcycle show in the Jackson Dinsdale Art Center and Gray Center parking lot from 10:00 a.m. to 2:00 p.m.
All events are free and open to the public. Details can be found below or at hastings.edu/hcls.
Phoenix's show, "Addicted to Americana," is a mega mashup of retro road trip adventures inspired by found vintage photography. He will launch classic and kitschy pop culture into the stratosphere with his expertise, unbridled enthusiasm and eagle eye for oddball detail. He'll share stories of his adventures in search of mid-century marvels, space-age style, unsung attractions, overlooked landmarks, roadside wonders, local foods, futuristic transportation, lost treasures and more. Phoenix is exploring the Hastings area for a couple of days before his presentation, including spending a day at Pioneer Village in Minden, so attendees may spot a few local gems in his show. For more on Phoenix, visit his website, charlesphoenix.com.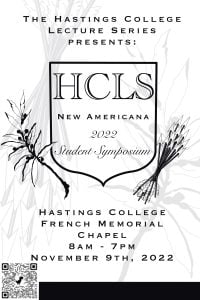 The full schedule for Wednesday, November 9, includes:
Additional information about the speakers is included below.
Dr. Michella M. Marino is a 20th century U.S. women's historian who focuses on sports and oral history. She earned her bachelor's from Hanover College, a master's from the University of Louisville and a Ph.D. from the University of Massachusetts Amherst. She was an assistant professor of history at Hastings College before relocating to her home state of Indiana to spearhead the Indiana Legislative Oral History Initiative. She is now deputy director of the Indiana Historical Bureau, a Division of the Indiana State Library, where she oversees the Public History, Digital Initiatives and Rare Books and Manuscripts departments. Her book titled, "Roller Derby: The History of an American Sport," was published in the fall of 2021 by the University of Texas Press. She has been interviewed for podcasts connected to LeMonde, the History Channel, and the New Books Network. Her book was nominated for the 2022 Indiana Authors Nonfiction Shortlist. Marino lives in Indianapolis with her husband Tony, a high school history teacher, and her eight year old son Matty, who after frequently receiving detailed history lectures by both parents over dinner, recently informed her that history is his least favorite subject.
Maj. Gen. James R. (Bob) Stevenson Jr. (Retired) served most recently as the deputy director of operations for Joint Electromagnetic Spectrum Operations, and the Mobilization Assistant to the Director of Operations, U.S. Strategic Command at Offutt Air Force Base in Nebraska. Prior to that position he served as the assistant adjutant General for the Nebraska Air National Guard. Stevenson received his commission through Officer Training School in 1989 after graduating from the University of Nebraska Omaha. He flew C-130E's and KC-135R Tankers, including in combat operations, before promotions gradually forced him out of the cockpit. He holds an MBA from Bellevue University.
Brent Bockstadter is a lieutenant with the Nebraska State Patrol assigned to the Investigative Services Division in Troop C – Grand Island. Bockstadter leads the Criminal and Drug Investigative units in the Troop C area in south central Nebraska and serves the State Patrol as the agency's Crash Reconstruction Coordinator and the sUAS Drone Program Coordinator. As a 26-year member of the Nebraska State Patrol, Bockstadter has worked in the McCook, Hastings, Kearney and Grand Island areas throughout his career in both uniform patrol work and most recently in Investigative Services. He holds a bachelor's degree in criminal justice from the University of Nebraska at Kearney and a master's in management from Doane University.
Dr. Eleanor Reeds is an assistant professor of English at Hastings College, where she now teaches courses across a range of genres, periods and national traditions. Having studied at the undergraduate level at the University of Cambridge, Reeds received her doctorate at the University of Connecticut. Her scholarly interests span Romantic and Victorian British literature, genre theory, children's literature and creative writing.
Dr. Glen Avent is professor of history at Hastings College. His interests include Latin America, especially modern Mexico, gender history, and world History. He received a bachelor's in international relations and master's in history from the University of British Columbia, and a doctorate in Latin American History from the University of Arizona.
Dr. Pedro J. Vizoso is professor of Spanish at Hastings College, teaching Spanish at all levels, ranging from courses for beginners to capstone courses for majoring students, focusing not only in language studies, but also in the Hispanic culture at large. His area of specialization is Transatlantic Hispanic Modernism. Other areas of great interest include translation studies, Hispanic crime fiction, the Spanish poetry of the Restoration period and the poetry of French Symbolism. Originally from Spain, Vizoso received a bachelor's in Hispanic philology from the UNED (Madrid, Spain), a master's. in Spanish from New Mexico State University and a doctorate in Hispanic literature from the University of Arizona.
Dr. Patricia Oman is associate professor of English and chair of the Languages and Literatures Department at Hastings College, and director of the Hastings College Press. Her research interests include regionalism (especially the Midwest), popular culture and forgotten texts. She has published academic articles on a variety of novels and films, including F. Scott Fitzgerald's "The Great Gatsby," Willa Cather's "O Pioneers!," Edna Ferber's "Show Boat" and its many stage and film adaptations, and the Nebraska-set horror film "The Children of the Corn." Recently Oman edited and co-wrote the introduction for "The Rossmoyne Renaissance," a collection of poetry by early 20th century writers Clara Ann Thompson, Priscilla Jane Thompson and Aaron Belford Thompson. With the help of dozens of Hastings College students, she also recently published for the first time Carolyn Renfrew's novel "The Shining Road," which was written in the 1920s or 1930s and is set in a fictional version of her hometown, Hastings, Nebraska. Oman received her bachelor's degrees in comparative literature and classics from the University of Illinois, a master's in modern literature from the University of Leicester and a doctorate in English from the University of Oregon.
Dr. William Avilés is professor of political science at the University of Nebraska at Kearney. His teaching and research interests include Latin American politics, globalization, illegal drug policy and political violence. He has published three books on these topics as well as many journal articles. The first generation college student is the son of an immigrant (his mother), and grandson of immigrants on his father's side. He earned a Ph.D from the University of California at Riverside and a bachelor's degree from Florida International University.
Terri Saunders is publisher of the Omaha Star, a newspaper founded in 1938 by Mildred Brown and her husband S. Edward Gilbert. The Omaha Star is the only remaining African-American newspaper in Omaha and the only one still printed in the state of Nebraska. Saunders has a bachelor's degree in public relations and journalism from Creighton University and is a self-described "serial entrepreneur" with successful ventures ranging from event management to technology concierge services. She's been associated with several North Omaha entities, including the Great Plains Black History Museum and the Omaha Economic Development Corp.'s Fair Deal Village MarketPlace.
Charles Phoenix is a mid-century pop culture expert, performer, author, explorer and collector celebrating classic and kitschy American life and style. He is known for his spirited live retro "slide show" performances, classic car JOYRIDE videos, colorful coffee table books, and fun "field trip" tours. The New York Times says: "Call him the King of Retro." He has appeared on Jay Leno's Garage, Martha Stewart, Conan and the Queen Latifah Show; also judging on Cake Wars Christmas and Nailed It, and vintage appraiser Storage Wars.
The Hastings College Lecture Series Student Symposium committee members include faculty sponsors Dr. Robert Amyot and Dr. Grant Bachman, and students Emma Downing, chair; Emma Severson, treasurer and Effy Widdifield, secretary, as well as committee members Alyse Anderson, Brandon Hamel, Natalie Watson, Kyle Collins, Max Griffel, Riley Lanning, Tymia Thompson and Victoria Caplinger.
Hastings College is a four-year residential college that focuses on student academic and extracurricular achievement. Hastings' student-centered initiatives include providing books, an iPad and a two-week study away experience at no additional cost. A block-style semester schedule allows professors and students to focus on fewer classes at a time and promotes hands-on experiences. Discover more at hastings.edu.
Hastings College | 800-532-7642 | 710 N. Turner Ave. | Hastings, Nebraska 68901   📍Map / Directions
Copyright 2022 Hastings College  |  Hastings College is an equal opportunity employer & educator.  |  Title IX/HC Cares